Houston, TX plastic surgeon Dr. Edward Lee utilizes an exceptional technique that produces excellent outcomes for our patients' skin using a treatment called radiofrequency (RF) microneedling with Profound RF technology. RF remedies have existed for a number of years and are popular in the aesthetics industry for their skin tightening effects. This specific type of therapy utilizes heat to stimulate the creation of collagen, elastin, and hyaluronic acid deep within the skin to maximize outcomes. With a clinically proven 100% response rate, we frequently incorporate this innovative process at Nuveau Plastic Surgery into our Houston, TX patients' skin care treatments to create healthier, smoother, and more luminous complexions.
As a minimally invasive treatment option, Profound utilizes microneedling and radiofrequency technology to increase skin elasticity for a younger-looking appearance. By helping to stimulate the production of collagen, elastin, and hyaluronic acid, Profound is ideal for diminishing the look of sagging jowls, loose skin on the neck and/or body, a double chin, cellulite, etc. With no need for surgery, injectables, or significant downtime, RF microneedling with Profound heats the skin to a controlled temperature and emits energy to permeate deep into the skin, promoting the rebuilding of elastin and collagen.
2018 New Treatment Of The Year Winner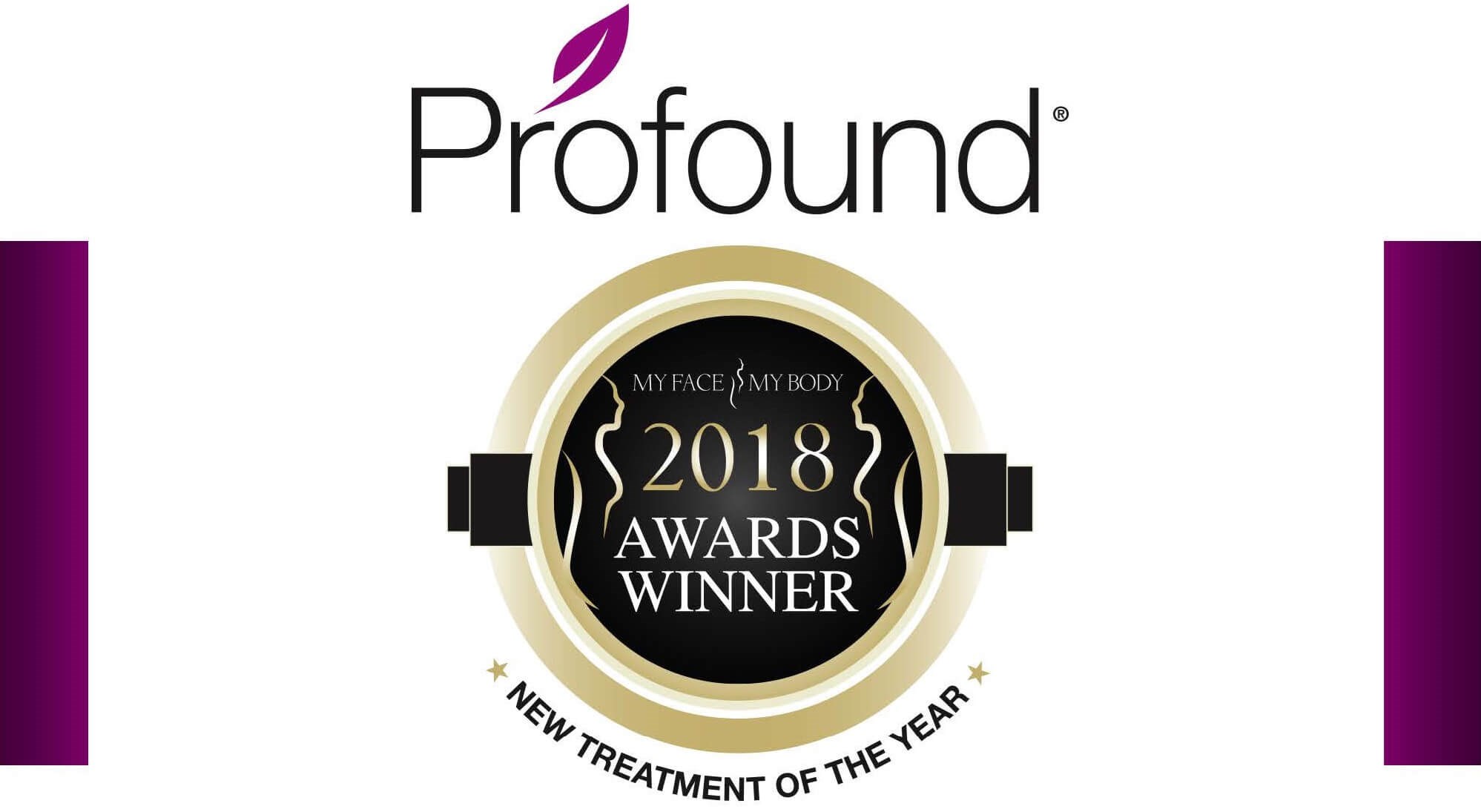 The Profound ® treatment won the prestigious MyFaceMyBody 2018 New Treatment of the Year Award.
Reviews
"Dr. Lee is very personable! He is always very thoughtful and kind. If you are looking to get a procedure done, he will be able to kindly guide you through the process. Very seldom do you meet a doctor who is as considerate and relational as Dr. Lee!"
- J.B. /
Facebook /
Mar 12, 2017
"10 days post "mommy makeover" and have to write a review because of how smooth the process was and how wonderful Dr. Lee is. Great bedside manner and superb skill level. You can tell he takes pride in his work and strives to get his patients the best possible outcome. Recovery process has been smooth thankfully. I was back to work 1 week post surgery. Also, Dr. Lee really listens to your concerns and works with you as a team. He even called me over Christmas to review a post op concern I had emailed him about. Eva in the office is also wonderful. Highest recommendations!"
- D. /
Google /
Dec 28, 2019
"Dr. Lee got magic hands. He is the best in town. I would only trust a properly trained aesthetic physician. Very happy."
- J.V. /
Facebook /
Aug 02, 2019
"i had botox injection on my forehead for gead aches and wrinkles and im very 😊 all so had my lips made fuller love them."
- C.M. /
Facebook /
Jul 25, 2019
"Did an amazing job! I went in for fillers while I friend went to get a mole removal. Not going to lie I did have a lot of swelling which freaked me out but after about a week there was no more swelling and after the first few weeks everything just balanced so beautifully. You can't tell that I've had anything done and my face looks a lot more symmetrical than it did before. My face looks more youthful and I love it! My friends mole removal went great for him. He says he can't even notice a scar! Ill definitely be a repeat customer!"
- B.L. /
Yelp /
Jun 08, 2019
Previous
Next
If you're 35 years old or older and are beginning to find discoloration, smile lines, age spots, and other skin problems (which include age and sunlight exposure), Profound RF microneedling might be the perfect treatment for you. RF microneedling may be an excellent option if you want to:
Firm your skin, creating a more refreshed look
Enhance skin feel, pigment, and tone
Repair skin imperfections like discoloration and blood vessels
Reduce the appearance of sun damage and age spots
Treat acne scars and other forms of discoloration
Rejuvenate skin for a younger, more luminous look
Microneedling utilizes an instrument (with small needles at the end) that's rolled carefully around the skin to puncture and make micro-injuries that "interrupt" the tissues and stimulate the production of collagen. Some even refer to this technique as collagen induction treatment. New skin grows as the skin begins to heal, leaving the surface looking and feeling brighter, smoother, and more refreshed. Although this process is usually done on its own, combining this innovative method with Profound radiofrequency technology has enabled us to maximize the outcomes for our Houston, TX patients.
This method is quite straightforward. The Profound applicator works by providing brief bursts of RF energy via a collection of 25 sterile, golden micro-needles. The power is delivered via the needles, which concurrently punctures your skin and returns the electrodes on the surface of the skin. The RF energy warms at levels which offer cumulative and continuing results.
Your Profound RF treatment will be performed in the Nuveau Plastic Surgery facility with the use of a numbing solution to minimize any discomfort. During your procedure, the Profound device will glide over the desired treatment areas, repeating the technique until the desired outcome has been reached. Patients should anticipate minute pinpoint scabs to become pronounced 24 – 72 hours after treatment, which will naturally disappear when the inherent skin has healed. Outcomes become noticeable as skin heals over a month after having a microneedling with RF procedure. Optimal results are often noticed after one procedure, and additional treatments are typically not needed.
If you're wanting to minimize the look of sun-damaged or aging skin, and reduce laxity, acne scars, or wrinkles, RF microneedling with Profound is a wonderful remedy with proven outcomes. Mixing radiofrequency microneedling and skin tightening, this exceptional skin repair procedure has grown in popularity and is a highly sought after, minimally invasive therapy for our Houston, TX patients. We welcome you to contact Nuveau Plastic Surgery to find out more.